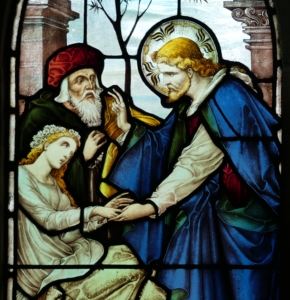 Aberlady congregation works  hard to continue a strong tradition of worship and service in the village and community. As you will see from our History section, that tradition stretches back a long way, certainly for 13 centuries and probably for a lot longer. Over the centuries Christian pilgrims have stopped off at Aberlady on journeys north [to St Andrews or Iona] and south [to Lindisfarne, Durham or beyond]. We are glad that you have stopped here to browse our website and appreciative of the hundreds of visitors we have, each year, to the Church and the village, which are set in a stunningly beautiful part of Scotland. The Church building enhances the landscape and, internally, is also of exceptional aesthetic and spiritual quality. The stained glass is of particular note.
However, it is people who form the body of Christ in any place and our aim as a congregation to serve residents and visitors alike in Christ's name, offering worship, hospitality, sanctuary, support and friendship, as well as spiritual encouragement. If it were ever true that everyone in Scotland professed the Christian faith that is certainly not true today. That said, spiritual pilgrimage is a strong today as ever and we seek to be as welcoming and inclusive as possible; providing a place for reflection, searching and development; a safe setting for questioning and exploring; sharing our own experiences and our own journey, individually and as a congregation.
Wherever your journey takes you after this brief encounter we pray God's blessing upon you.
Bless to me, O God,
Each thing mine eye sees;
Bless to me, O God,
Each sound mine ear hears;
Bless to me, O God,
Each odour that goes to my nostrils
Bless to me, O God,
Each taste that goes to my lips;
Each note that goes to my song,
Each ray that guides my way,
Each thing that I pursue.
Each lure that tempts my will,
The zeal that seeks my living soul.
The Three that seek my heart,
The zeal that seeks my living soul,
The Three that seek my heart.
from The Carmena Gadelica
DIRECTIONS TO ABERLADY
The historic village of Aberlady is approximately 18 miles east of Edinburgh City centre.
On approaching the village from the west on the A198 the church is situated on the left hand side. If approaching the village from the east the church is situated towards the end of the village on the right hand side.